Post by gaberelli on Sept 8, 2013 9:01:45 GMT -8
First of all, I want to say thanks to Ritch and Greg from Black Hole Weaponry. I bought my barrel quite some time ago wanting to make my foray into wildcatting. As a new reloader and even newer wildcatter, I was filled with questions that Ritch and Greg were instrumental in answering. I'm sure I was a bit of a pain in the ass but they never let on. I should also send a big shout out to the talented builder of this gem of a rifle, ME!
So, specs on the rifle are:
22" BHW 6x6.8 1:9 barrel (simple neck down of 6.8 to 6mm)
Dtech rifle length FF forearm and Dtech gas block
Aero Precision upper with squared face
Windham Weaponry phosphate carrier
ARP 6.8 Superbolt
BCM Mod 3 Charging Handle
Lower has a Geissele SSA-E trigger in it
Optic used is a SWFA SS 3-15 with a Bobro mount
I had 114 pieces of Hornady brass for this rifle set aside. I am using the Hornady to keep it separate from my SSA and Federal 6.8 brass. I decided to load up some pressure testing rounds with the 14. I went with 4 sighter rounds at 27.0 grains of IMR 8208 XBR and topped of with Hornady 87 grain VMAX. The remaining rounds were two at each charge of 27.8, 28.1, 28.4, 28.7, and 29.
I got the scope mounted and cleaned the barrel this morning. I was a bit concerned at first because in addition to the burr that I commonly feel on a gas rifle at the gas port, I also felt the patch grabbing on right at the muzzle. It took quite a bit of pressure to get the patch to go through and there was some lint left on the muzzle. I decided to just shoot it hoping the burr resolves itself like gas port burrs usually do.
I wanted to shoot these at at least 200 yards but was at home today with time to spare so I shot at my 100 yards range in my field. First shot was from 50 yards. I bore sighted and fired a round. The bolt ejected the round at 4:30 but did not hold back on a known magazine. It hit paper (low-right on target) so I made the appropriate adjustment and went to my 100 yard mark. Settled in with all my measuring tools (measured pre and post fired cases with a Hornady tool; avg. brass growth was 0.012" so I might adjust that when I size next time). I fired the first shot and it was nowhere to be found on paper. ****. At least the round ejected and the bolt held back. I headed back to 50 yards with my last two sighters and laid down again firing two shots (low-left on target). Well that is a nice group. The first shot must have been goofy with the cold bore and multiple areas of tooling burrs. Made my final adjustments to this new group at 50 yards.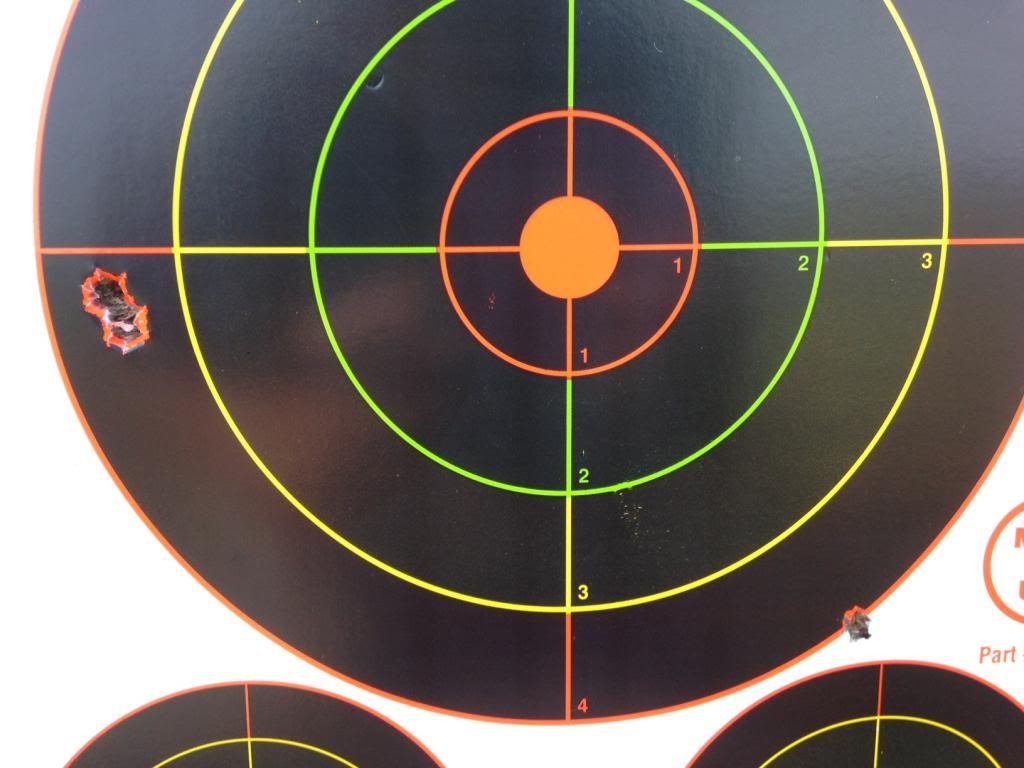 Back to 100 yards to see what happens. I really just wanted to function test, break in and test for pressures, but decided to do a ladder test format with the loads anyway. I knew that at 100 yards with this small of a spread it might not be very useful but what the hell. My inclination proved right. Round after round right on top of each other even with the small range in charges (27.8-29). I fired each round 1 minute apart and the first round was a few minutes after the last sighter (this shot as the upper-left one).
So knowing that this wasn't going to be a useful ladder test, I just settled in to shoot a group. First shot was a few minutes after the last target and consecutive shots were spaced 1 minute apart. Not bad huh? Apperantly this ammo weight and powder choice are quite forgiving.
Temp outside was 65 degrees with a slight breeze from my 300 degree mark at 5-8 MPH.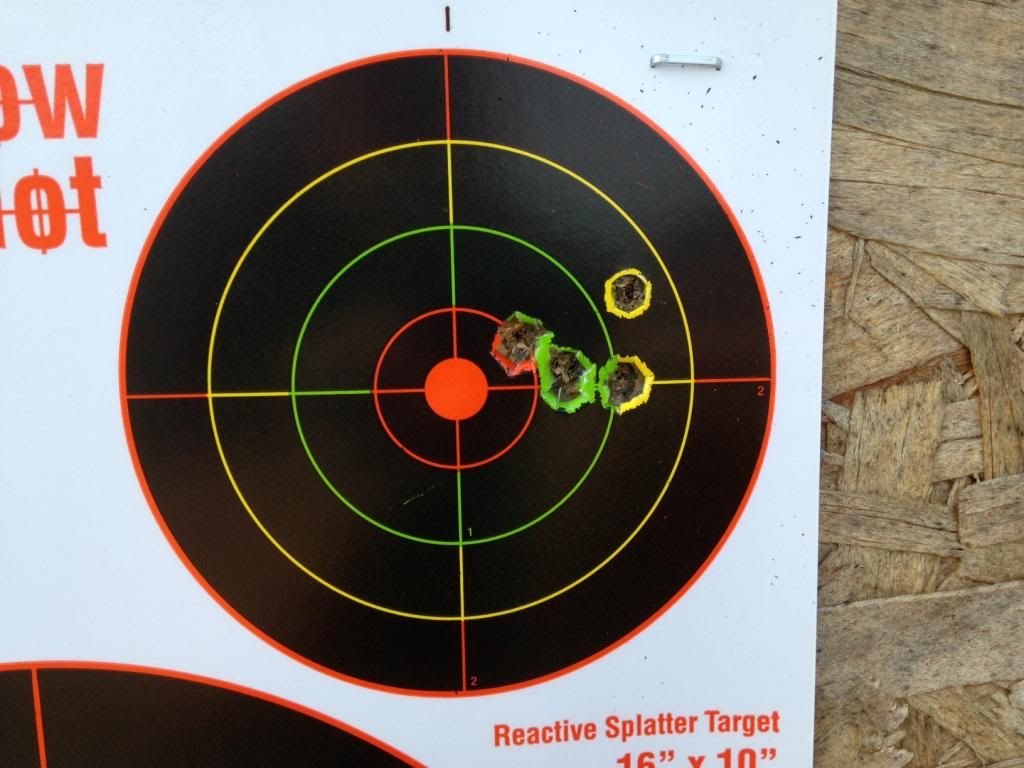 I think we have a shooter folks!! Unfortunately I had my brand spanking new chrony all set up but the battery I had was dead and I didn't feel like going back to the house to get one out of a smoke alarm or something. So no velocities but I plan on getting that thing figured out next shooting session. I think I will load up 20 or so at 29.0 grains and see what happens. 29.0 did have a slight ejector imprint but no swipes or flattened primers.
**disclaimer** these charges referenced were worked up to with caution and in my gun. Do not use these in yours without doing the same.
I am very happy with this rifle and urge you 6.8 guys that reload to get into a 6mm of some sort to play around with. Clearly I now have a slight bias to BWH. This thing rocks. These were all fired off a bipod with a rear bag. A more solid rest wouldn't have hurt.